This Week's
---
Peter Ward and Hotel Trades Council Administration Are Re-Elected
Hotel Voice - May 12, 2017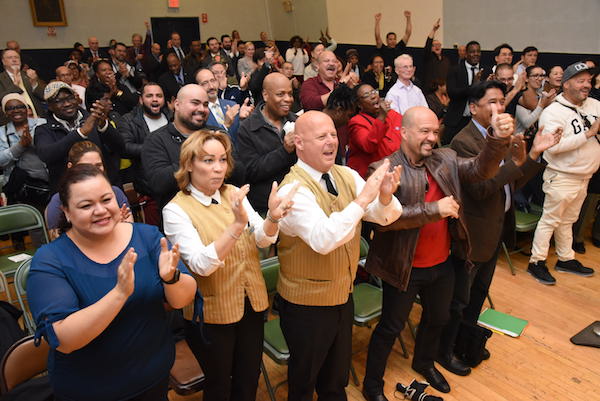 Peter Ward and the Hotel Trades Council's administration were re-elected at a general membership meeting held on Tuesday, April 25.
Elected along with Ward were HTC Secretary-Treasurer Michael Goodwin, Executive Vice President Chris Cusack, Recording Secretary Kuba Brown and General Organizer Jim Donovan. Also re-elected were Vice Presidents Richard Maroko, Vanessa Meade, George Padilla, Lance Van Arsdale and Declan Tracey. In addition, 26 Delegates to the Hotel Trades Council Enlarged Council were elected.
The chairman of the Hotel Trades Council's Election Committee, Dorian Ross, an employee of the Conrad Hilton Hotel and a member of the Union for 31 years, called the meeting to order and introduced the other members of the Election Committee, all of whom are Hotel Trades Council members.
Ross reviewed the rules of nominations and election, which had been published in Hotel Voice and mailed to all Hotel Trades Council members. He explained that the nominations and election process was being observed by Maralin Falik and Global Election Services, an independent company that ensures that correct procedures are followed, and former U.S. Department of Labor Senior Investigator Stephen Biller.
Ross then opened up the floor for nominations. The administration's slate was nominated by HTC Vice President Richard Maroko.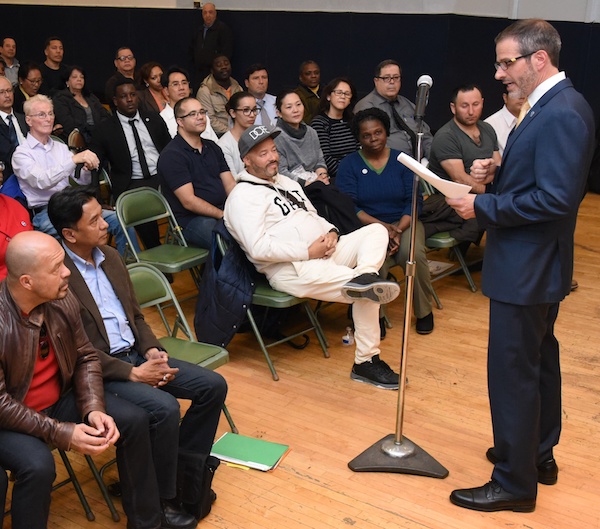 Maroko called it an honor to nominate the HTC administration and he praised it for the huge strides the union has made under Ward's direction.
Maroko's nomination of Ward and his team was greeted warmly by the members who were present for the meeting at Gertrude Lane Auditorium. As each position and nominated person's name was called off by Maroko, members cheered loudly.
Following Maroko's nomination of the administration's slate of candidates, Ross asked if there were any other slate nominations. There were none. Ross then asked for individual nominations.
Ross explained that the rules called for automatic election for any nominated candidates who were eligible for office and who did not face eligible opposition, and Maralin Falik of Election Services Solutions cast a symbolic white ballot in recognition of this. Ross noted that the eligibility of all candidates was to be verified the next day, April 26, at a meeting of the Election Committee.
The eligibility of all candidates and all seconds was examined the next day with Ms. Falek present. The Election Committee determined that all members of the Hotel Trades Council Unity slate were eligible and, since there were no other eligible candidates for office, declared that Ward and the entire HTC Unity slate were elected by acclamation.