This Week's
---
Members Testify at North Bergen Airbnb Hearing
Hotel Voice - February 21, 2017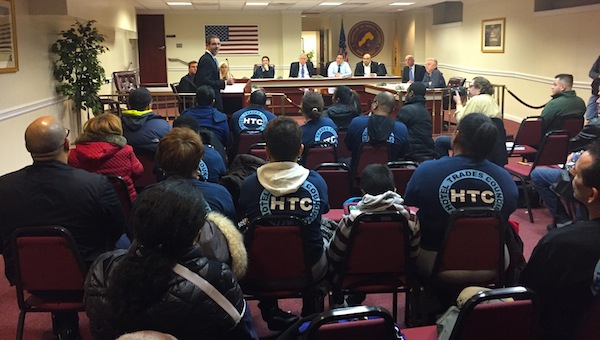 Vice President and General Counsel Richard Maroko, seen here, telling the North Bergen Board of Commissioners, "Thank you for passing this very important resolution that regulates short-term rentals."
On February 2, 16 members of the Hotel Trades Council attended the Board of Commissioners meeting in North Bergen, NJ, to express their support for a resolution the town was considering to regulate Airbnb rentals. The resolution was adopted with a unanimous vote of the Board, which is great news for hotel workers and town residents alike.
The resolution bans short-term rentals for periods under thirty days. It allows for some exceptions, but the rules for the exceptions are very narrow, which limits the ability of town residents to continue to run illegal hotels in North Bergen. Most importantly, the bill also bans the advertising of short-term rentals, which enables the town to properly enforce the law by fining people who post ads for their rentals on Airbnb and similar sites. This enforcement capability built into the bill is similar to that contained in the New York State law which was passed last year.
Luis Almonte, an HTC member who has lived in North Bergen for over 20 years, prepared a statement and testified to the town's Board of Commissioners.
"As both a hotel worker and a North Bergen resident, I want to express my support for regulating short term rentals and Airbnb in our town," said Almonte. "I love living here, but if Airbnb was unregulated, then our neighborhoods would be completely changed."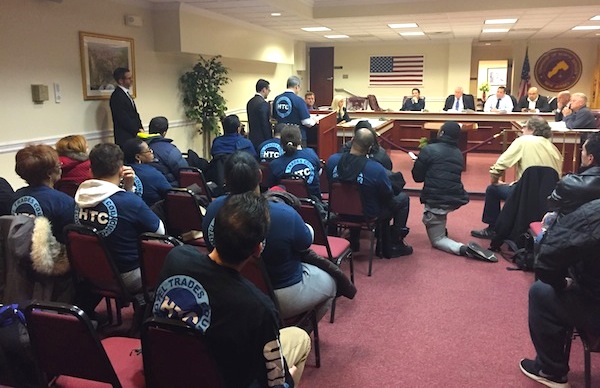 HTC member Luis Almonte testifying before the North Bergen Board of Commissioners.
"We're here today to express our support and thank you for passing this very important resolution that regulates short-term rentals," said HTC Vice President and General Counsel Richard Maroko, in his testimony to the Board of Commissioners. "We believe that homes and residential blocks are for living rather than commercial hotel activity. We want people to visit North Bergen and other great towns in the region, but they should stay at actual hotels."
Later, Maroko addressed HTC's New Jersey membership to praise North Bergen and Mayor Nick Sacco.

 "It's critical that we recognize elected officials who make smart and informed decisions about policies that improve our lives," said Maroko. "Mayor Sacco and his team developed and passed an ordinance that will protect the neighborhoods and the livelihoods of hundreds of HTC members. We should remember that and look to officials like him when we need real leadership on issues that matter to us."
Airbnb regulations such as the one passed in North Bergen have been gaining popularity among various Northern New Jersey towns. HTC will be engaging its New Jersey membership to advocate for these types of regulations to continue to protect hotel jobs and neighborhoods that are in our union's jurisdiction.