This Week's
---
Industry Training Program Is Registering Members for Next Semester
Hotel Voice - December 7, 2016

Eligible members of our union who are interested in the Industry Training Program (ITP) should take note that registration for the school's next semester (Spring 2017) is taking place right now. Classes meet either once or twice a week and are conveniently scheduled to accommodate most work schedules.
For more than 50 years the union's Industry Training Program has been a door of opportunity for countless members, and that door is open once again.
In the past, ITP has helped countless members upgrade their job skills and learn new trades. Experienced instructors provide training in state-of the-art classrooms that have up-to-date equipment. Best of all, the school is easily accessible by public transit, especially the #7 train.
You can learn the skills that are necessary for positions in the Food & Beverage Department by attending ITP classes and training as a Tournant (line cook) or as an A la Carte Server and/or as a Banquet Server. A working kitchen and restaurant serve as the classrooms! You can also take classes that can qualify you for positions in the Engineering Department. ITP trains A/C & Refrigeration Mechanics, Boiler Mechanics, Electrical Mechanics, and Plumbing Mechanics.
The school's computer courses are also popular, a two-part program that provides hands-on training with personal computers. Level 1 begins with basic operations, followed with instructions on the functions and uses of the various Microsoft Office programs. During the Level 2 course members will sharpen their MS Office foundation skills and learn how to work with web-based applications.
If you'd like to learn more about the ITP registration process or any of the courses offered through the union's training benefit, please contact the staff at the school; they are always happy to answer questions and explain the services that are available. You can visit the ITP staff at 43-47 37th Street in Long Island City, just around the corner from the Queens Health Center, or call them at (718) 361-5100, extension 3600.
For many years, ITP has served as a gateway to opportunity for countless Hotel Trades Council members. If you would like to join in this success story, consider registering for the school's Spring 2017 semester. But hurry! Classes fill up quickly.
Finally, we think this is a good time to remind members that the Training Center is just a few minutes away from midtown Manhattan on the #7 train!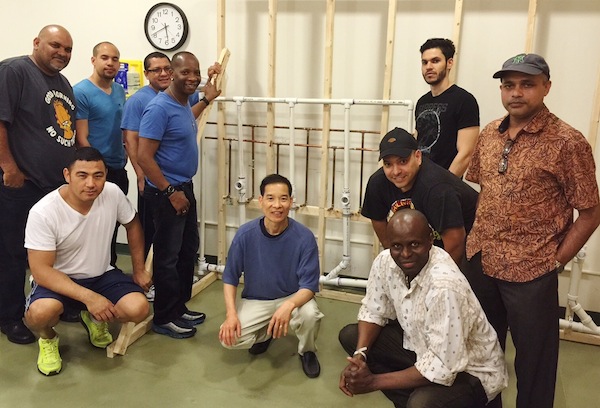 These students are seen in their 2015 ITP classroom where they learned to become plumbing. There are four engineering classes (Plumbing, Electric, Boiler and AC& Refrigeration Mechanics) available for the Spring 2017 semester at the school.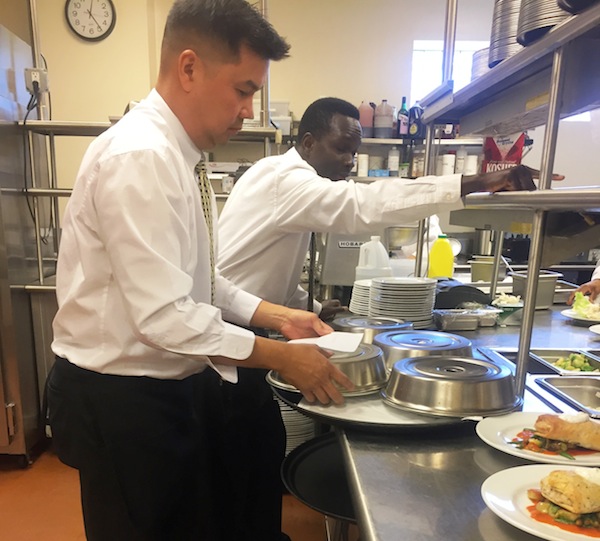 ITP servers picking up entrees in the kitchen. Food and beverage students learn their crafts in a functioning kitchen and restaurant!