This Week's
---
HTC Members Support Shuttle Bus Drivers in Newark
Hotel Voice - February 3, 2017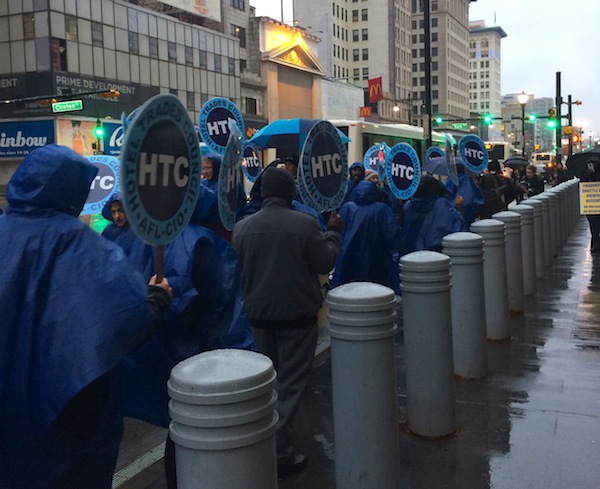 HTC members rallying in the rain to support members of Local 108, RWDSU in Newark.
On Friday, January 20th, 65 HTC members turned out to a rally in Newark, NJ, in support of our brothers and sisters at Local 108, RWDSU. At the time, Local 108 was in a contract fight with Gateway, a shuttle bus company. Local 108 had organized the employees at Gateway eleven months ago and was fighting to get to a contract. The company's shuttle bus drivers earn low wages and had not seen a wage increase in five years.
But soon after the rally, RWDSU Local 108 informed HTC that they had finally reached an agreement with Gateway! The local's president sent HTC a note that said "I truly appreciate the personal attention you gave to this matter. I would like to thank you for making a difference in these workers' lives."
HTC has been rapidly organizing new hotels in Northern New Jersey, including in Newark, and e January 20th rally was an important opportunity for HTC to show support for another union. Public events like this help to not only build important relationships and alliances, but also allow HTC to begin to build its reputation of vast membership engagement for which it is already so well known in New York City.
Long-term HTC member and Grand Hyatt bartender Charles Montalbano attended the rally and stated, "I was really proud to attend this demonstration and show support for the RWDSU Local 108 and for those shuttle bus drivers."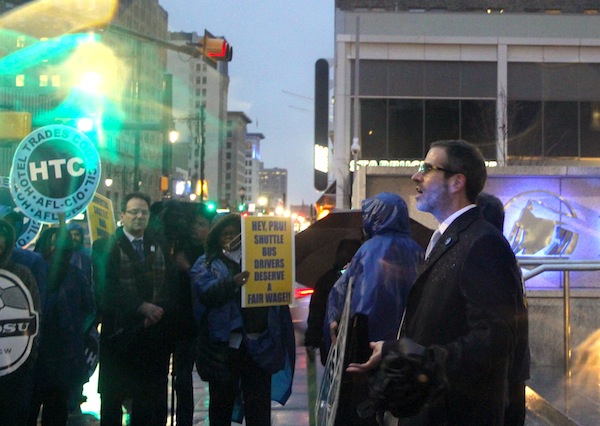 HTC Executive Vice President and General Counsel Richard Maroko speaking to HTC members and members and supporters of Local 108, RWDSU.
HTC Executive Vice President and General Counsel Richard Maroko addressed the crowd and stated, "I was also very proud to have my union out there in public, showing everyone how HTC hotel workers are engaged and willing to turn out to support their union brothers and sisters in Newark."
Maroko added, "The unprecedented turnout illustrates the HTC's rapidly growing strength in Newark. There is a larger movement towards unionization and fighting for better-paying jobs taking place in Newark and other areas of New Jersey and HTC is proud to be a part of it."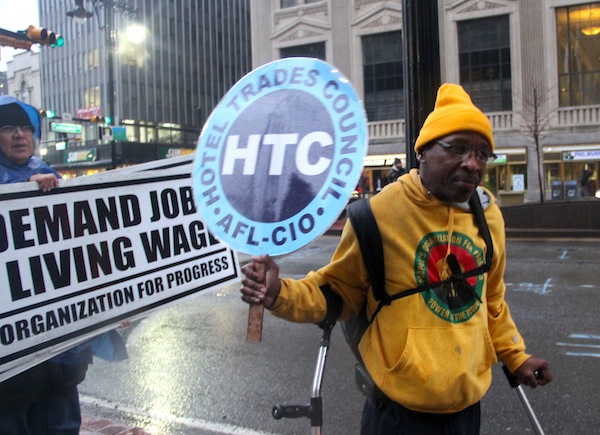 This RWDSU member came to the rally on crutches and held up this HTC sign as a way to say thanks for our union's support.