This Week's
---
Hotel Workers Walkathon Raises Cash for Juvenile Diabetes Research
Hotel Voice - October 21, 2016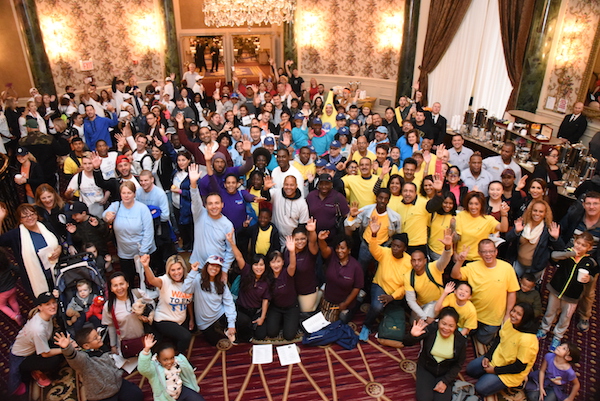 The 2016 Hotel Workers Walkathon
Because of the caring effort of hundreds of New York City hotel industry employees on October 2, the Juvenile Diabetes Research Foundation (JDRF) received a large amount of needed funding. The event was the 25th annual Hotel Workers Walkathon.
The weather was cloudy and grey, but the mood of participants could not have been any sunnier.
The walkathon began with a complimentary breakfast at the Roosevelt Hotel. Following the breakfast, the walkers toured a route of midtown hotels, raising money for the Juvenile Diabetes Research Foundation at each stop they made. Many of the participating hotels not only helped sponsor the event they also provided refreshments along the way. The Hotel Association, a number of private clubs, the Hotel Trades Council and Local 6 all made contributions on behalf of the walkers.
Past walkathons have raised close to $1 million dollars for various worthy causes and more will be added to that total from this year's walk. Numbers like these should make anyone proud, especially with the money going to help such a worthy cause as research to prevent and cure juvenile diabetes..
"We express sincere appreciation to all of our members, retirees and their families who took the time to participate in this year's walkathon," Peter Ward said. "Their donation of time led to many thousands of dollars of donations to help the Juvenile Diabetes Research Foundation. It was a great event for a great cause."