This Week's
---
Children's Holiday Party Registration Taking Place Now!
Hotel Voice - November 9, 2016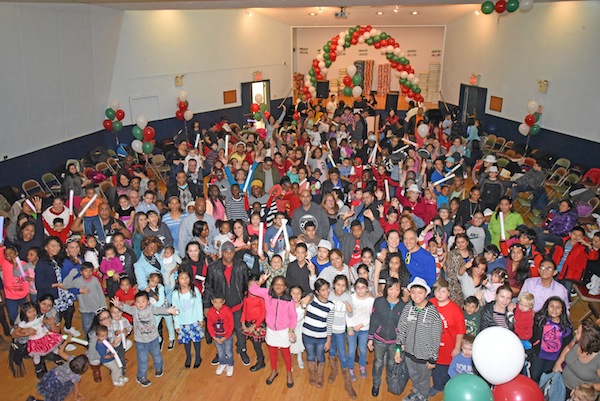 As this photo from last year's party shows, the Union's annual holiday party is a blast for parents and kids alike!
This is a reminder that the Neighborhood Service Councils is registering children for the Hotel Trades Council's annual holiday party for children. Members can register their children until Wednesday, November 23. Don't let your children miss out on this festive, fun-filled event, which happens to also be a happy holiday treat for the parents who attend!
Everyone knows that the Union's annual holiday party for children is one of the most popular⎯and certainly one of the happiest⎯events of the year, and it's also a favorite for many of the Union's staff. It features entertainment and lots of fun and games, and each child who attends will receive a gift appropriate for his or her age. As always, a few pleasant surprises can be expected, too. And, yes, Santa will attend!
This year's party will be held on Saturday, December 3. But as we said, parents must remember that advance registration is a must in order for their children or dependents to be able to attend the annual holiday party. There is no registration for the party on the day of the event or anytime after November 23. Advance registration is required because it guarantees that there will be enough age-appropriate gifts on hand for all children who attend.
All children or eligible dependents of Hotel Trades Council members are invited to attend the annual holiday party. The children must be between the ages of 2 and 12, and parents or guardians should bring identification such as their Union I.D. card when registering their children. It is also important to remember that for children to be eligible to be registered for the party they must be listed as dependents with the Union's benefit funds.
You may register your children or eligible dependents at the Union's Neighborhood Service Councils (NSC) office, 305 West 44th Street, fourth floor, until November 23. Office hours are Monday through Friday, from 9:00 a.m. until 5:00 p.m. Members may also register their children by calling the Neighborhood Service Councils at 212-586-6400 ext. 4262.
Again, this year's holiday party for members' children will be held on Saturday, December 3, at Gertrude Lane Auditorium, 305 West 44th Street. The time of the party will appear on the cards members will receive when they register their children to attend the event. Happy holidays!