"'We have created a blueprint that will set a standard for future contracts with the gaming industry throughout the state,' Ward [president of the Hotel Trades Council] said. 'This is an expectation…If we're going to give you license to run a billion-plus-dollar-a-year operation, we expect the people to be taken care of as part of the deal.'" Read more...

"Peter Ward, president of the Hotel Trades Council, said 'This is the outcome we want, if we're going to have gambling in New York. We've worked to create a situation where the middle class is suddenly within reach of gaming workers…not a bunch of minimum-wage jobs where people have to live on the dole to survive.'" Read more...

"The 32,000-member [Hotel Trades Council] is a fraction the size of more prominent labor organizations 1199 SEIU or 32BJ SEIU, but punches well above its weight thanks to an efficient and aggressive political arm. All 26 council candidates it endorsed triumphed Tuesday night, roughly half of them in competitive contests." Read more...
---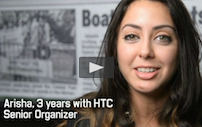 Join the fight and work for HTC
Interested in a career in social justice? Learn more about what it takes to be a union organizer fighting for the rights of hotel and gaming workers across New York and Northern New Jersey. Watch video...
---